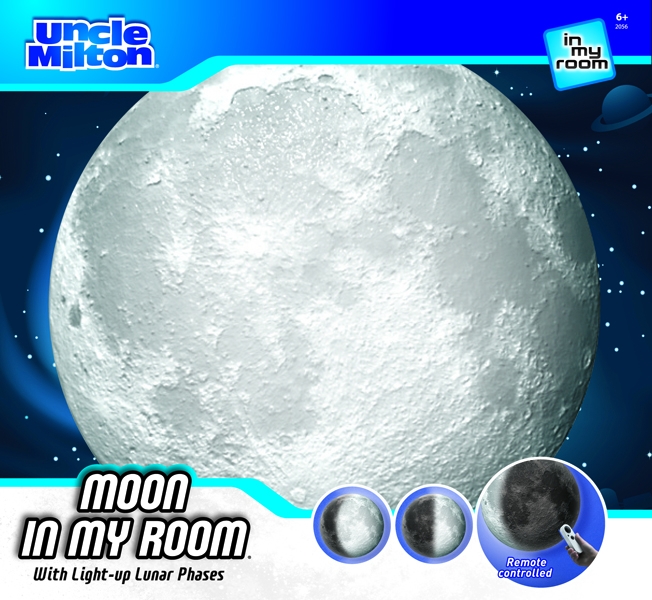 Uncle Milton is a brilliant company that creates, produces, and markets proprietary and licensed toys.  This means they offer a fabulous selection of toys by well-known brands they have teamed up with as well as toys Uncle Milton has created on its own.  Uncle Milton has ten products lines that are all fun and consist of many award-winning toys.  Many of these toy brands have stood the test of time and have been children favorites for decades.  My son caught me browsing the Uncle Milton website a few months ago and he made me back track through each and every toy several times because they simply all caught his interest.  I knew in that moment that Uncle Milton needed to be on my Holiday Gift Guide this year.  They have a wide selection toys to spark new interests in your children and they encourage creativity.  These are the kind of toys that make me wish I was a kid again.  The perfect toys for this holiday season!
My son fell in love with the Uncle Milton In My Room product line from the very first moment he saw it.  If Santa could manage to fit all of the toys from the In My Room product line under our tree this year, my son would be one happy boy.  I know this because we recently surprised my 4-year-old with the Uncle Milton Moon In My Room.  My hubby was sneaky and installed it on the wall of Aidan's room while the boys were eating dinner.  It was quick and easy to install because the moon is very light in weight.  When we went upstairs that night to get ready for bed, my son and his little brother were beyond excited to see moonlight coming from Aidan's room.  My hubby had the remote in his pocket so he turned the moon on once we got to the top of the stairs.  The Moon In My Room remote control allows you to manually cycle through the phases of the moon or you can hit the automatic button which will result in the moon cycling through the phases on its own.  The battery life on this toy is great.  We have had it for several months and the batteries are still going strong.  The Moon In My Room has an auto shut-off which helps preserve the battery life.  This is a great feature since my little man often falls asleep with to moonlight!
The Moon In My Room is enjoyed by everyone in our family.  I am impressed with the quality of the moon itself.  It has a realistic look with a bumpy crater filled surface, so it even looks nice hanging in my sons room during the daytime.  My toddler even loves this moon.  He will ask for the moon remote and request we turn the lights off so he can turn the moon on.  He even knows how to cycle through the moon phases manually.  Before bedtime the boys often dance around in Aidan's room to just the moonlight.  They find this to be a lot of fun.  The Moon In My Room would make a fabulous gift for any little boy or girl this holiday season.  What Uncle Milton toy would your little one love to receive this holiday season?
Buy It!










Uncle Milton products are available for purchase on their website.  You will also find Uncle Milton products available for purchase on most popular online retailers as well as in a variety of retail stores including, specialty and hobby stores, mass retailers and department stores nationwide.
Follow Uncle Milton on Twitter and Facebook to stay informed of great promotions and fun giveaways!
Uncle Milton provided me with the Moon In My Room for review purposes.  All opinions are mine alone and based off of my experience with the product I reviewed.