Ponchillow is a warm fleece wearable blanket/poncho that has a built-in pillow.  The Ponchillow is available in several patterns and colors for both adults and children.  When I first discovered the Ponchillow, I was extremely curious about the function and actual comfort of this product.  After having a Ponchillow in my home for several months now, I can honestly say any doubts I had have been erased.  The Ponchillow is truly a fun and functional product.  My son has the Royal Blue Kids Ponchillow and he loves it.  I can't tell you how many times a day I suddenly hear him chanting Ponchillow while he runs around the house wearing it.  The Ponchillow is great for curling up and watching television, but the many functions of this product make it ideal for many other activities as well.
Once my boys are old enough to start participating in sports, I will need a Ponchillow for each member of my family.  The Ponchillow looks like a great comfort for viewing outdoor sports such as baseball, football, or soccer.  The pockets and hood will help you keep warm and the pillow will provide extra comfort.  These features also make the Ponchillow ideal for travel.  When wearing a Ponchillow, you can stay warm and have a pillow readily available during a long car ride or flight.  I don't know about you but I have waited in airports for many hours after having my flight canceled or delayed, and I would have loved to have had the comfort of a Ponchillow during that long wait!
Ponchillow even has a Pupchillow that is available in three sizes.  The Pupchillow is made of warm fleece and machine washable.  How cute is this Puppy Paws Pupchillow?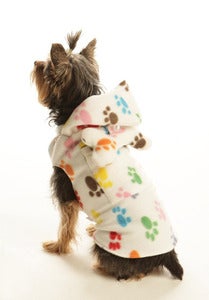 Buy It!
Ponchillows are available for purchase online at the Ponchillow website.  Go here to find the perfect Ponchillow for you or a loved one today!
Ponchillow provided one Royal Blue Kids Ponchillow for review purposes.  All opinions are mine alone.